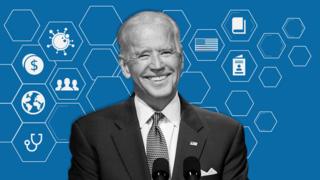 When he formally announced his entry into the 2020 presidential race, Joe Biden declared that he stood for two things – workers who "built this country", and values that can bridge its divisions.
As the US faces challenges from coronavirus to racial inequity, his pitch in essence is to create new economic opportunities for workers, restore environmental protections and healthcare rights, and international alliances.
He will officially become the Democratic presidential nominee on Thursday when he will deliver this message to a national audience.
Here in detail is where the candidate stands on eight key issues.